Expert Mattress Cleaning Liverpool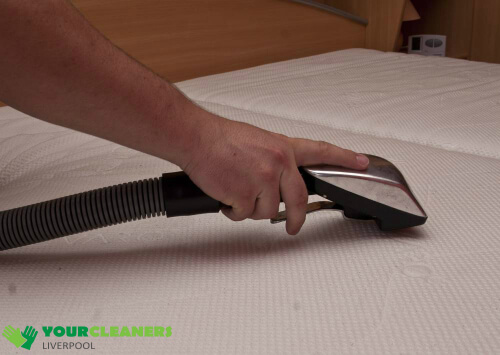 Booking a safe mattress cleaning services with professional mattress cleaners in Liverpool is not only important for the sure results you get, but also the safety of your family. Our cleaning company guarantees proper results each time you call, not only with the extermination of bed bugs or dust mites but also stain and odour removal. Booking us will get you:
Full pest removal

Odour and stain extraction

Affordable rates

Accommodating booking schedule

Late night visits
Our professional cleaning company - Your Cleaners Liverpool, is working on weekends and bank holidays free of additional charge, with other flexible options, making us a truly reliable mattress cleaning service. Call 0151 673 0104 and get more information from professional mattress cleaning company, book today or get a free quote from our competent team of experts and take advantage of our affordable cleaning prices.
How We Do The Mattress Cleaning in Liverpool
We are able to clean in Liverpool: memory foam, regular, spring, anti-bacterial, orthopedic mattresses without any trouble for the mattress itself.
U.V Lights mattress cleaning Liverpool
With the usage of medical grade lights, we are able to penetrate the deepest layers of your mattress and kill of any pests lingering on the outside or inside. Using these lights, we guarantee a full decontamination of any mattress type without having to resort to heavy, dangerous chemicals that have the potential to poison you. Often used in laboratory settings, these lights are used to disinfect entire rooms, equipment and even clothes from a wide range of bacteria and pests. The mattress cleaners are using this in conjunction with a strong vacuum machine making the cleaning method bulletproof. There is no drying required and we leave no trace of the pests behind, fecal matter and all.
Mattress steam cleaning
Works as a follow-up procedure to the U.V lights mattress cleaning treatment, catching any dust particles or contaminants and removing them from the mattress. The cleaning method also does wonders against mattress stains and has quite the success when dealing with odours and blemishes on even the oldest of mattresses. We use a steam jet to blast away dirt and immediately extract it, leaving a small amount of moisture behind to dry naturally within 3-4 hours of the treatment. The professional mattress cleaners are able to remove allergens and dead skins cells from the surface of the mattress with great precision, without harming the mattress itself.
Frequently Asked Questions About The Mattress Cleaning
Q: Are the U.V lights safe for the mattress and for my family?
A: The ones we are using have been optimised to suit domestic use and have little to no negative effects on the fibers of the mattress.
Q: How effective are these mattress cleaning methods?
A: We've never had anyone requesting a re-cleaning, the U.V lights do the work superbly.
Q: How long will my mattress dry for after the mattress cleaning?
A: Depending on the thickness and the material we are cleaning, generally anywhere between 3-4 hour, a lot faster with our air movers.
Book Mattress Cleaning From Your Cleaners Liverpool
To book this mattress cleaning services and any of the treatments in our arsenal, call 0151 673 0104 and our team will handle the booking. Use our booking form for immediate scheduling or the live instant chat room to get immediate answers to your questions. The Liverpool mattress cleaner will do the rest.