Professional Rug Cleaning Near You in Liverpool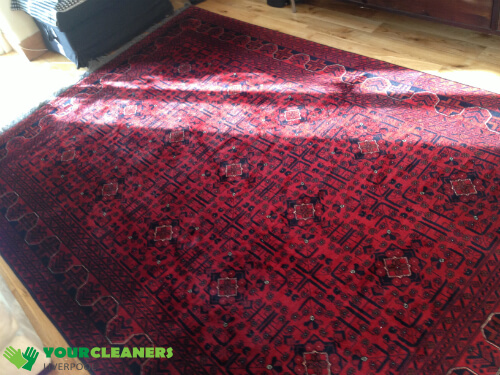 For a decade now Your Cleaners Liverpool has been a top rug cleaning service provider in Liverpool. Want to get your rug cleaned and refreshed by saving both money and time? Call Your Cleaners Liverpool and take advantage of:
Full dust removal

Fine fibre cleansing

Extraordinary cleaners

Up to standard equipment

Reliable customer service
Anytime you need our help, we will be there for you. Call 0151 673 0104 for more information about our rug cleaning in Liverpool and get a free quote from our 24/7 available team.
Cleaning methods we use when it comes to rug cleaning
As professional rug cleaners, we are able to take care of: Persian, Oriental, exotic, wool, silk, cotton, velvet, Kashmir, satin, blended, synthetic, acrylic, vinyl, sisal rugs and many more.
Steam rug cleaning Liverpool
The local rug cleaners in Liverpool are more than capable of removing obstinate stains and potent odours set deep down into your rugs fibres. This is where steam cleaning comes to the rescue. Steam cleaning is most useful when tackling greasy stains, smudges from beverages, paints, and other blemishes. Bulk of the cases, steam cleaning is used when treating wool and synthetic materials. What does the steam cleaning process consist of: A steam jet is injected into the fibres of the rug while both heat and moisture disintegrate and remove the dirt from your rug. Therefore, we use steam cleaning on materials that can withstand its cleaning power. Once trapped into the steam jet, we immediately draw the disintegrated and detached filth from the rug, using a strong vacuum machine. Up to 95% of the moisture left behind and 100% of the unwanted grime are removed from the rug.
Rug dry cleaning
Dry cleaning gives the local rug cleaners to gentle treat and maintain your natural fibres and handmade rugs which are not suitable to be treated with regular cleaning methods. What makes dry cleaning so efficient? It uses a natural dry compound which binds with the dirt particles without harming the fibres of the rug. The cleaning pros bind the compound which breaks down the filth and apply it onto affected areas of the rug. The mixture is left to settle for 10 minutes, then removed with a strong vacuum machine. The best part - the cleaning process requires no drying.
Frequently Asked Questions
Q: Can you recommend a safe rug cleaning services for my Persian rug?
A: For Persian rugs, the most convenient cleaning methods is dry rug.
Q: How do you remove odours from the rugs?
A: Either one of our cleaning techniques can neutralise unpleasant smells in rugs of all nature.
Q: Can you do something about embedded dog hair from my rug?
A: Yes, the usage of strong vacuum machines and a top notch detergent often do the trick.
How Much Does Rug Cleaning Cost
Check Your Cleaners Liverpool rates and ongoing deals. Take advantage of affordable and reliable local cleaning services near you, everywhere within Liverpool area.
Book Rug Cleaning from Your Cleaners Liverpool
You can get a quote from our team or directly book a treatment by calling 0151 673 0104. We also support a 24/7 live chat where you can join for free and raise your enquiries about Your Cleaners Liverpool work matter.